dissenyat per a l'aventura
kits camper super-funcionals
Ell llit camper de maleter més compacte per a furgonetes de passatgers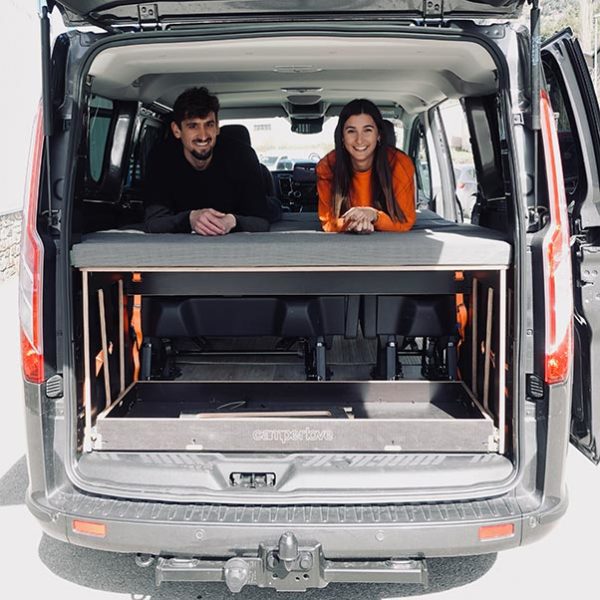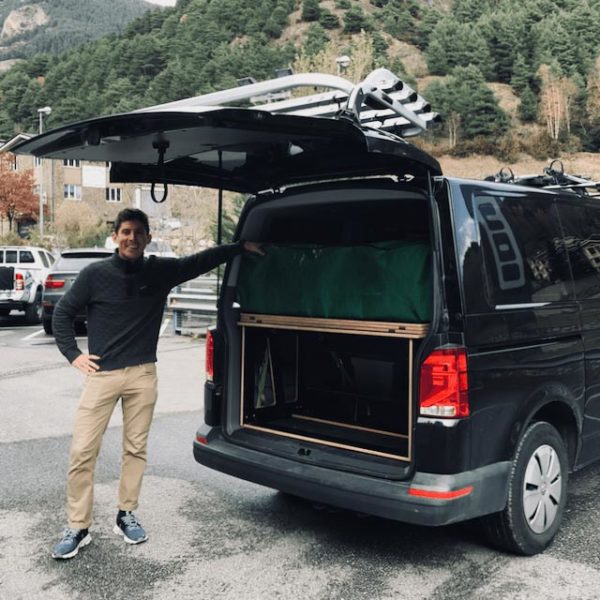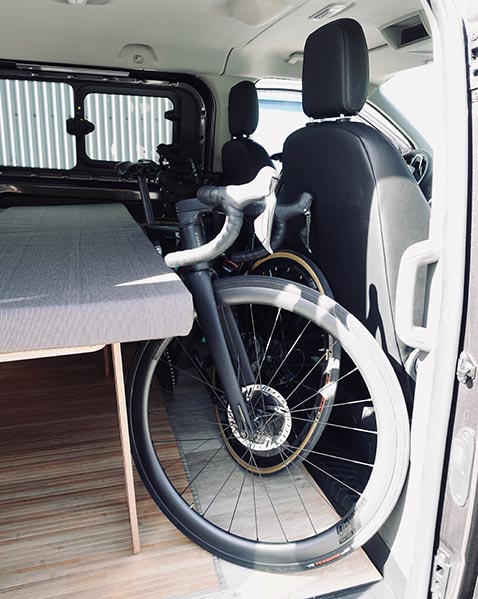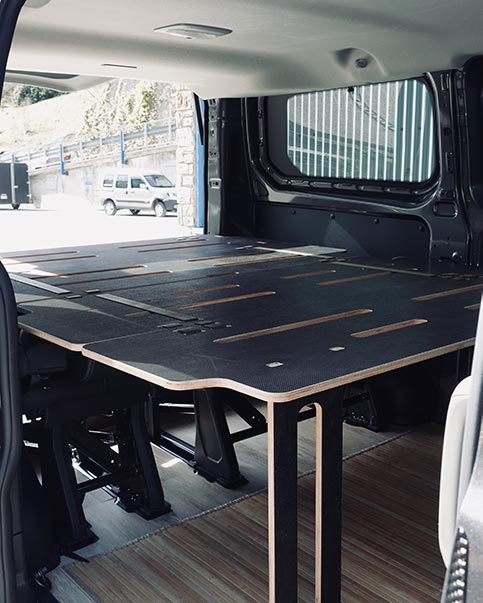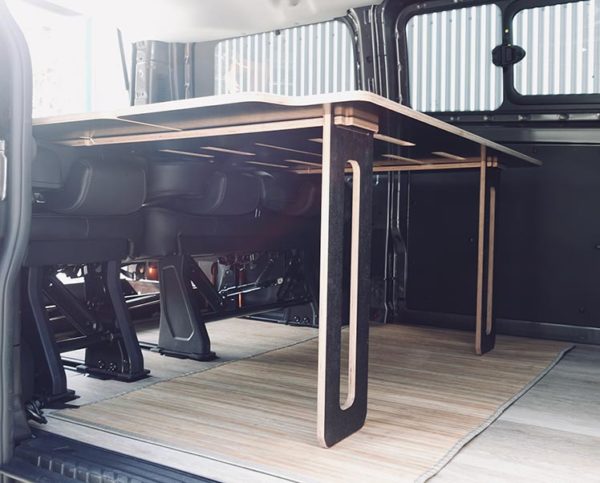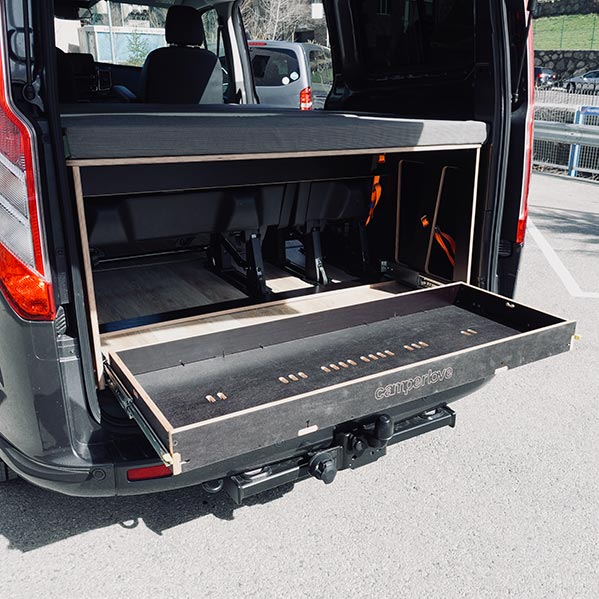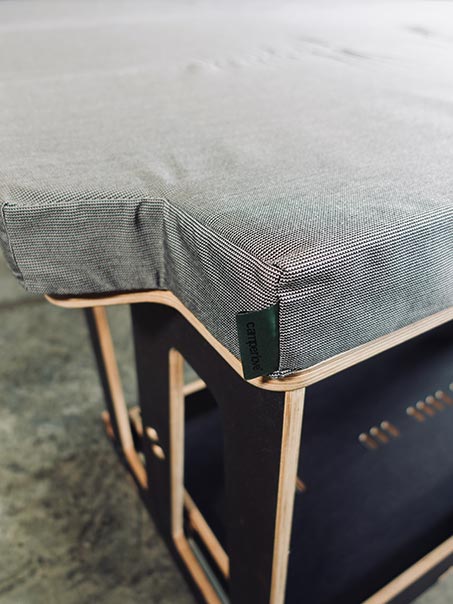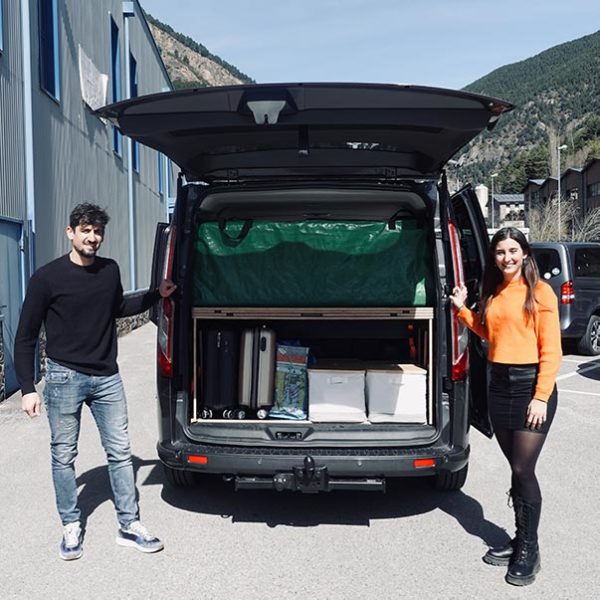 Tens una furgoneta de passatgers i vols conservar totes les places mentre gaudeixes d'un llit camper? Només vols fer servir 3a fila de seients i disposar d'una gran zona habitable? O potser prefereixes barrejar els seients de la 2a i 3a fila? Vols un maleter versàtil per portar tot el material d'acampada, però que quedi buit durant la setmana per carregar el teu material de treball?
Tot això és possible amb el SUPERCOMPACT!
Des de 900 € (Impostos inclosos)
Enviament gratuït a tota Espanya, França i Portugal
Dissenys innovadors i funcionals
Dissenyat a partir del model 3D del fabricant del vehicle
Dissenyat específicament per a cada model de vehicle
El catàleg més gran de vehicles
Fabricació totalment industrialitzada
Materials d'alta qualitat
Dissenys robusts, duradors i reparables
La millor relació qualitat-preu
10 anys de garantia
Enviament a la UE, UK i CH
Fet amb amor
Tria el

kit camper

al menú superior.
Selecciona el teu model de furgoneta al menú desplegable del producte.
Configura els accessoris per al teu kit camper.
Fes la compra.
Ens posarem en contacte amb tu i et demanarem algunes fotos per assegurar-nos que has triat el model correcte.
Rebràs el teu nou

kit camper

a casa.
Munta el teu nou

kit camper

i instal·la'l a la furgoneta en 5 minuts.
Vés a l'aventura!
Tots els nostres kits camper estan dissenyats específicament per a cada model de furgoneta. Posa't en contacte amb nosaltres si no trobes el teu.
FORD
Tourneo Custom 2013-2017 L1
Tourneo Custom 2013-2017 L2
Tourneo Custom 2017-2022 L1
Tourneo Custom 2017-2022 L2
Transit Custom L1 Tailgate door
Transit Custom L1 Double door
Transit Custom L2 Tailgate door
Transit Custom L2 Double door
Tourneo Connect L1
Grand Tourneo Connect L2
MERCEDES-BENZ
NISSAN
VOLKSWAGEN
PEUGEOT
CITROEN
Si pots somiar-ho, podem crear-ho!
SZ Slidewayz
10. November, 2021.
Buena calidad ! Súper trato y respeta los plazos de entrega !!
Paqui Carri
31. August, 2021.
Gran treball, molt bon professional i competent. Un plaer haver triat aquest servei!!! Supersatisfeta!!!!
Jorge Galobart
21. July, 2021.
I was lucky to have met Marc from Camperlove to take care of my camper project after checking different options across Europe. The end result was way above my expectations, with very high end design that was tailored to my needs, offering a lot of space and bullet proof quality for endless outdoors adventures. On top of this, Marc is a great person that guides you and provides advise throughout the entire project duration, always with a smile. Highly recommended 5/5!
estafania estrabaud
1. April, 2021.
El Marc, ha fet realitat la meva idea i s'ha adaptat a totes les meves peticions. Resolutiu amb tots els dubtes. Innovador, atent, detallista i molt pulit. En resum, genial i molt contenta del resultat. Camperlove esta en marxa i anira lluny!!!👏🏼👏🏼👏🏼
Roser Amat
1. April, 2021.
Per aquells que no coneixeu Camperlove, us convido a fer una ullada als treballs que es fan, curosos, innovadors i lo mes important la confiança d'una feina feta amb passió. Gracies Marc
Oscar Moreno escriva
14. November, 2020.
Molt comode i gran el llit , facil i rapid de montar . Molt content ¡¡¡¡
yolanda lechuga gil
12. November, 2020.
Súper bien el mueble, muy fácil de montar y desmontar! Muy buen trato por parte de Marc! Estamos encantados!
Alex Andaluz
3. November, 2020.
Buying my Camperlove has been one if the best things I have ever done. Not only is about the quality of the product. The freedom that gives me on my weekend adventures is priceless. Also is so easy to remove it from my van when I do not need it.